Mobile Pet Groomer Chandler | Pawgo
We bring mobile pet grooming services for dogs and cats right to your door!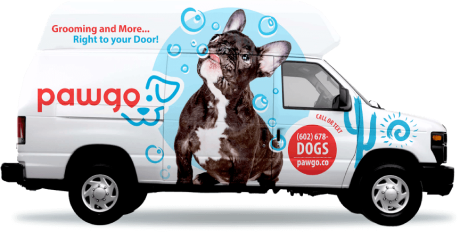 Experience the benefits of full-service, salon quality mobile grooming
Home or Office
Quickly and easily book an appointment that works with your schedule. Whether at your home or office, one of our independent groomers will arrive at your doorstep to provide full service.
Less Stress & More Time
No more stressful trips to and from the groomer, mobile service is convenient for busy pet lovers and easier on your pet. Pawgo's independent groomers are available seven days a week.
Happy & Clean Pets
Every pet gets one-on-one attention with an experienced groomer while staying close to a place they are familiar with. No distractions from the attention and care your pet deserves.
Premier Pet Grooming in Chandler
Pawgo groomers have over 500+ years of combined experience.
Discover the ultimate in pet grooming convenience with our mobile groomers in Chandler. Our experienced Chandler pet groomers take pride in offering personalized and attentive care for your four-legged companions. Skip the hassle of traditional grooming salons and let our mobile groomers provide top-notch services right at your doorstep.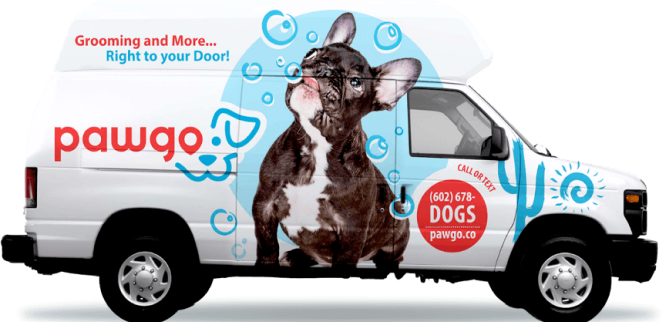 Hot & Cold Water
Full-sized Tub
Grooming Table
Air Conditioning
Force Dryers
Vacuum System
Fresh & Waste Water Tanks
Routinely Maintained
Free from Cage Driers
Fully Insured
Optimized for
safety and comfort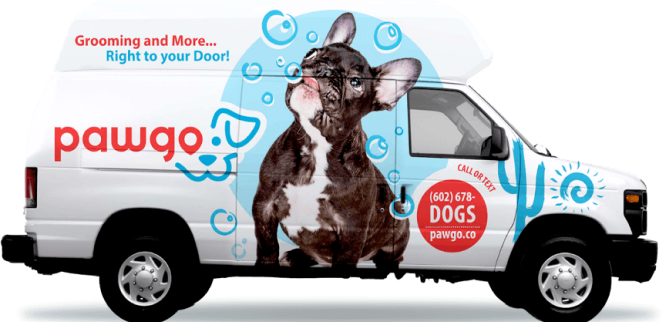 Praise from our satisfied customers:
Find a Chandler pet groomer near you in three easy steps!
Book an Appointment
Enter an address, a date and time and instantly see our many groomers' availability and pricing online. Text or call support is available if needed.
Add multiple pets if needed
Select what services you need
Schedule a local, trusted groomer
Securely pay online
Meet Your Groomer
Your groomer will arrive in a full-service grooming van, right to your door! All you have to do is walk your pet outside.
Self-contained, fully-equipped vans
Service at your doorstep
All the offerings of a salon
Experienced and local groomers
Enjoy Your Clean Pet
Whether its a full grooming session or just a bath and a nail trim, Pawgo's groomers provide any service your furry friend needs at an experienced and high rated level.
Less stress than salon grooming
Pets get one-on-one attention
Pet profiles allow for easy rebooking
Specialized care for your special pet
We recognize different pets need different care. Our groomers offer full services for both cats and dogs, taking care to optimize each experience to the needs of each pet.
Cat Grooming Services
In addition to the full grooming services listed above, specific cat grooming services are also offered, such as:
Mobile cat claw trimming
Eliminating fleas and ticks
Cat safe shampoo and conditioner
Medicated bath if needed
Hot oil treatment after bath
Shedding solution
Massage
Full dermal inspection
Relaxing fluff dry by hand
Dog Grooming Services
In addition to the full grooming services listed above, specific dog grooming services are also offered, such as:
On-site grooming assessment
Brushing out of knots and debris
Medicated baths
Clean eyes
Dental plaque removal without anesthesia
De-shedding treatment
Pampering massage
Flea and tick treatment
Hot oil treatment
100% cage-free, one-on-one grooming
Tasty treat (with your approval)
Meet Our Groomers
Hi there! My name is Amanda and I have been grooming since 2014. I recently moved to Arizona after living in Iowa for my entire life. I just had my first child in December of 2021 and also have 2 fur-babies at home! From an early age, I have always wanted to have a successful career working with animals. I went on to get a degree in Business Management and a grooming certification shortly after. I've worked at several different grooming salons but I'm excited to finally go mobile! Every pet who comes to see me will be treated like one of my own. I will always do my absolute best to make sure your pet's spa day is relaxing and enjoyable! *Payment: I take all forms of payment including cash, check, credit card, Zelle, PayPal and Venmo. *Cancellation/No Show Policy: Any no shows (15 minutes after your scheduled appointment time) or appointments canceled less than 24 hours in advance will be charged the full price of the groom. However if there is any type of emergency, please contact me at your earliest convenience.
Tuesday:
08:30 AM - 03:30 PM
Wednesday:
08:30 AM - 03:30 PM
Thursday:
08:30 AM - 03:30 PM
Friday:
08:30 AM - 03:30 PM
Saturday:
08:30 AM - 03:30 PM
Dog
Full Groom (cut, bath + nails)
Bath, Brush and Nails
Hygiene Service (Nails, Minor Services)
Cat
Helpful Links
Best Dog Parks in Chandler
Whether you're a local resident or visiting the area, this comprehensive guide provides all the information you need to plan a delightful outing for you and your beloved pets. Explore the best dog parks in Chandler and make unforgettable memories with your canine companions!
Best Pet Stores in Chandler
Explore the best pet stores in Chandler, AZ, with Superpages! This comprehensive directory showcases a variety of pet stores catering to all your pet's needs. From premium pet food to a wide range of toys, accessories, and grooming products, these stores offer everything to keep your furry companions happy and healthy. Whether you have a dog, cat, bird, or small animal, Superpages helps you discover the finest pet stores in Chandler, AZ, for a delightful shopping experience for you and your beloved pets.
Best Pet Clinics in Chandler
Discover the top-rated veterinary clinics in Chandler, AZ, with Yelp! This comprehensive search features a variety of clinics offering expert care and medical services for your pets. Whether it's routine check-ups, vaccinations, or surgical procedures, these clinics ensure your furry companions receive the best treatment. Yelp's user-friendly platform helps you find the perfect veterinary clinic in Chandler to care for your beloved animals.
Main Cities We Serve
Pawgo's Locations
Pawgo's booking services were first started in Arizona serving the Valley of the Sun, and is steadily expanding in other areas of the USA. The goal is to have local, trusted care and personalized support wherever there are pets and pet parents.
FAQs
What information is needed to book an appointment?
Give Pawgo your pet's information, a credit or debit card to confirm, and a date and time that works for you. You are charged after service day. Authorize the final amount with your groomer, add a tip if you see fit, and you are done.
Do your vans have hot water and AC?
All Pawgo vans are self-contained with hot water, AC, wastewater tanks and a grooming table. See a video of how it works here.
I live in an apartment. Do you need to plugin to an outlet?
We have a selection of vans that run on generator power and are all independent from the grid. Our generators are powerful enough to run a small A/C unit so that your pet and our groomers are comfortable through the process. However, please specify if you do live in an apartment to ensure a generator-powered van is sent to you.
Do you have service 7 days a week?
Yes. Please make sure to book in advance if you need weekend appointments. Varies by area and groomer.
How long will it take for you to groom my pet?
A full groom takes anywhere between 1 – 2 hours. A bath and tidy is about 1 – 1.5 hours.
Is the mobile grooming van insured?
All of our independent groomer's mobile grooming vans are fully insured.
What products do your groomers use?
It varies by groomer-- groomers have freedom to choose because they service all types of pets.