California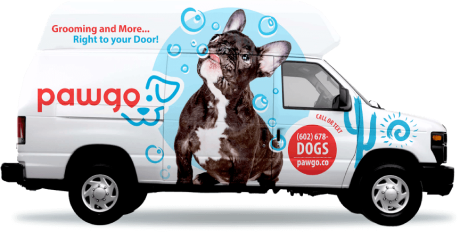 Are you looking for a mobile pet grooming service that caters to your furry friends in the Golden State? Look no further than Pawgo, the ultimate choice for pampering your pets. Whether you live in sunny San Diego, bustling Los Angeles, or scenic San Francisco, we have you covered with our convenient and affordable services. Here are some reasons you should choose Pawgo for your pet grooming needs in California.
Praise from our satisfied customers:
I am thoroughly pleased with the service provided by Pawgo. The grooming session was a success, resulting in a beautifully groomed and happy pet. The care and attention given to my pet during the grooming process were remarkable.
Grigor Ataryan
15/08/2023
Very pleased with this mobile service! Friendly, on time, did a beautiful grooming on my dog, just as I requested. Will definitely be using this service again.
Amanda was awesome! Maggie didn't have a great first experience with another grooming company and was now scared. We thought we would give Amanda with Pawgo a try, we are so happy we did. We will definitely be using this service and Amanda from now on.
Kyra is amazing, my dogs have never looked better!
Great service. My 2 dogs loved the groomer. Timely and did an excellent job. I definitely recommend them.
If you have a pet that is overly anxious, the Mesa Mobile Pet Grooming is for you. They are extremely professional and capable. Thanks, Kyra. My dog Buddy looks very handsome.
Service areas in California

You can order online your mobile pet grooming service and we will go right to your door. Currently, we offer our Mobile Pet Grooming Service in these locations:
Landmarks

California has unique places to explore with your pet, from natural wonders to cultural attractions. Here are some of the most dog-friendly landmarks in California that you and your pup can enjoy together.

This iconic bridge is a stunning sight and a great place to walk your dog. You can cross the 1.7-mile span on the east sidewalk, open to pedestrians and cyclists. Your dog must be on a leash, and you can enjoy the bay views and the city skyline.

This world-class museum in Los Angeles is known for its impressive art collection, but did you know that it also welcomes dogs? Bring your leashed dog to the Central Garden, a beautiful outdoor space with various plants and sculptures. You can also picnic with your pup on the lawn outside the museum.

If you want to experience California's history and have fun with your dog, check out this camp in Pine Grove. You can explore an authentic gold mining town, pan for gold, and camp overnight with your dog. Your dog must be on a leash, and you can enjoy this place's rustic charm and natural beauty.

A Brief History of California

California has a rich and diverse history that spans thousands of years. Here are some highlights of California's past that shaped its present.

Native American Period: Before the arrival of Europeans, California was home to hundreds of Native American tribes, each with its own culture and language. They lived harmoniously with the land and resources and developed complex social and political systems. Some of the largest and most influential tribes were the Chumash, the Tongva, the Maidu, and the Miwok.
European Exploration Period: The first European to explore California was Juan Rodríguez Cabrillo, a Spanish navigator who sailed along the coast in 1542. He claimed the land for Spain but did not establish any permanent settlements. The following primary explorer was Sebastián Vizcaíno, who mapped the coast and named several places in 1602. He also reported that California was an island, a misconception that persisted for many years.
Spanish Colonial Period: The first permanent Spanish settlement in California was founded by Gaspar de Portolá and Junípero Serra in 1769. They established a chain of 21 missions along the coast, where they converted Native Americans to Christianity and taught them European skills. They also built forts (presidios) and towns (pueblos) to protect and govern the territory. Some of the most famous missions are San Diego de Alcalá, San Francisco de Asís, and San Juan Capistrano. Some of the most essential pueblos are Los Angeles, San Jose, and Monterey. 
Mexican Period: California became part of the Mexican Republic after Mexico gained independence from Spain in 1821. The Mexican government secularized the missions and distributed their lands to private owners (rancheros). The ranchos became the basis of a new economy based on cattle ranching and trade. The Californios, as the Mexican residents were called, developed a distinct culture and identity. They also resisted attempts by other countries, such as Russia and France, to take over California.
United States Statehood: After winning the Mexican-American War, the United States acquired California from Mexico in 1848. The same year, gold was discovered at Sutter's Mill, sparking the California Gold Rush. Thousands of people worldwide came to California for fortune, transforming its population and landscape. California became the 31st state of the United States in 1850 as part of a compromise over slavery. Since then, California has played a significant role in American history, culture, and economy. It has led to innovation, entertainment, agriculture, and diversity.
Location & Climate

California is located on the west coast of the United States, bordered by Oregon to the north, Nevada and Arizona to the east, and Mexico to the south. It is the third-largest state by area, after Alaska and Texas, and the most populous state in the nation. It has a varied geography, including mountains, valleys, deserts, forests, and beaches. It also has a diverse climate, ranging from Mediterranean to alpine to arid. The average temperature in California is 59°F (15°C), but it can vary widely depending on the location and season. The warmest months are July and August, and the coldest are December and January. The wettest months are January and February, and the driest are July and August. California is prone to earthquakes, wildfires, floods, and droughts.

Fun Facts of California and Pets

California is a fascinating place for both humans and pets. Here are some fun facts about California and its furry residents.

California has more pet owners than any other state in the United States. According to a 2019 American Veterinary Medical Association survey, 65.2% of California households own at least one pet, compared to the national average of 57%. That means about 29.5 million pets in California, including 8.9 million dogs and 7.5 million cats.
California is home to the world's oldest living cat. The Guinness World Records recognizes a cat named Rubble as the most senior living cat in the world as of June 2020. Rubble was born in May 1988 and lives in Exeter, England. However, the oldest cat recorded was Creme Puff, who lived in Austin, Texas, from August 1967 to August 2005. She was 38 years and three days old when she died.
California has the most dog-friendly beaches in the United States. According to a 2020 ranking by BringFido, a website that helps pet owners find dog-friendly places, California has 76 dog-friendly beaches, more than any other state. Some of the best dog-friendly beaches in California are Huntington Dog Beach, Carmel Beach, Fiesta Island Off-Leash Dog Park, and Coronado Dog Beach.
California has a state dog and a state cat. In 2018, California became the first state to adopt an official state dog and an official state cat. The state dog is the shelter pet, which honors the millions of dogs rescued and adopted from shelters annually. The state cat is also the shelter pet for the same reason. The legislation aims to raise awareness and encourage people to adopt pets from shelters instead of buying them from breeders or pet stores.
Things to Do with Your Pet

California is a paradise for pet lovers, with plenty of activities and attractions you can enjoy with your furry companion. Here are some things you can do with your pet in California.

Go hiking on one of the many trails that allow dogs

California has hundreds of hiking trails that welcome dogs, as long as they are on a leash or under voice control. You can find trails for all difficulty levels and scenery, from easy walks to challenging climbs, from urban parks to wilderness areas. Some of California's most popular dog-friendly hiking trails are Runyon Canyon Park in Los Angeles, Lands End Trail in San Francisco, Mount Tamalpais State Park in Marin County, and Joshua Tree National Park in Riverside County.

Visit one of the many wineries that allow dogs

California is famous for its wine industry, with more than 4,000 wineries across the state. Many of them are dog-friendly, allowing you to bring your pup along while tasting some of the world's finest wines. Some of the most dog-friendly wineries in California are Mutt Lynch Winery in Sonoma County, Clos LaChance Winery in Santa Clara County, Malibu Wines in Los Angeles County, and Boeger Winery in El Dorado County.

Take a road trip along one of the scenic routes that allow dogs

California has some of the most beautiful roads in the country, offering stunning views of the coast, mountains, deserts, and forests. You can take your dog on a road trip along one of these routes, stopping at various points of interest. Some of the most scenic routes that allow dogs in California are Pacific Coast Highway (Highway 1), Route 66 (Highway 40), Tioga Road (Highway 120), and Redwood Highway (Highway 101).