Washington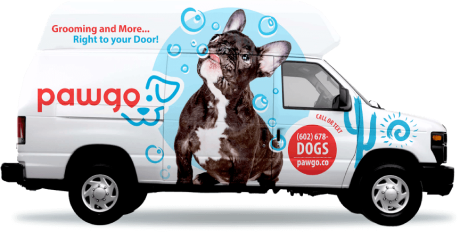 Are you looking for a convenient and affordable way to keep your pet clean, healthy and happy? Pawgo is the answer! We are a mobile pet grooming service that comes to you, wherever you are in Washington. Whether you have a dog, a cat, or any other furry friend, we can provide them with the best grooming experience possible. Pawgo is more than just a grooming service. We are also a community of pet lovers who want to share our passion and knowledge with you. That's why we created this website page dedicated to Washington, where you can find useful information about the state, its history, its landmarks, its climate, and its fun facts. You can also discover some of the best things to do with your pet in Washington, from hiking trails to beaches to parks. Read on and get ready to explore Washington with your pet!

Praise from our satisfied customers:
I am thoroughly pleased with the service provided by Pawgo. The grooming session was a success, resulting in a beautifully groomed and happy pet. The care and attention given to my pet during the grooming process were remarkable.
Grigor Ataryan
15/08/2023
Very pleased with this mobile service! Friendly, on time, did a beautiful grooming on my dog, just as I requested. Will definitely be using this service again.
Amanda was awesome! Maggie didn't have a great first experience with another grooming company and was now scared. We thought we would give Amanda with Pawgo a try, we are so happy we did. We will definitely be using this service and Amanda from now on.
Kyra is amazing, my dogs have never looked better!
Great service. My 2 dogs loved the groomer. Timely and did an excellent job. I definitely recommend them.
If you have a pet that is overly anxious, the Mesa Mobile Pet Grooming is for you. They are extremely professional and capable. Thanks, Kyra. My dog Buddy looks very handsome.
Service areas in Washington

You can order online your mobile pet grooming service and we will go right to your door. Currently, we offer our Mobile Pet Grooming Service in this location:

Landmarks

Washington is a state full of natural and cultural wonders. Here are three landmarks that you can visit with your pet and enjoy some amazing views and experiences.

This is a museum and garden that showcases the stunning glass art of Dale Chihuly, a world-renowned artist from Tacoma. You can admire his colorful sculptures and installations both indoors and outdoors, surrounded by lush plants and flowers. Dogs are welcome in the garden area, where they can also see the iconic Space Needle.

Speaking of the Space Needle, this is another landmark that you can't miss in Washington. It is a 605-foot tall observation tower that offers panoramic views of Seattle and beyond. You can ride the elevator to the top and walk on the glass floor or dine at the rotating restaurant. Dogs are allowed on the grounds of the Space Needle, but not inside the tower.

San Juan Islands Sculpture Park

If you want to escape the city and enjoy some island life, head to the San Juan Islands, a group of islands in the Puget Sound. There you can find the San Juan Islands Sculpture Park, a 20-acre park that features over 150 sculptures by local and international artists. You can walk along the trails and admire the art, as well as the wildlife and scenery. Dogs are welcome in the park, as long as they are leashed.

A Brief History of Washington

Washington has a rich and diverse history that spans thousands of years. Here are some of the highlights of its past.

The first inhabitants of Washington were Native Americans, who lived in various tribes and cultures across the land. They hunted, fished, gathered, traded, and created art and stories that reflected their connection to nature and their ancestors.

The first European explorers to reach Washington were Spanish sailors in the late 18th century. They named the region Nueva Galicia and claimed it for Spain. Later, British explorers also arrived and named it New Georgia and Columbia. The two countries disputed over the territory until 1846, when they agreed on the 49th parallel as the border.

The first American settlers came to Washington in the early 19th century, following the Lewis and Clark expedition and the Oregon Trail. They established farms, fur trading posts, missions, and towns along the Columbia River and Puget Sound. They also clashed with some of the Native American tribes over land and resources.

Washington became a territory in 1853 and a state in 1889. It was named after George Washington, the first president of the United States. It was also nicknamed "The Evergreen State" because of its abundant forests and greenery.

In the 20th century, Washington experienced rapid growth and development due to its natural resources, such as timber, fish, coal, gold, and hydroelectric power. It also became a center of innovation and industry, especially in aviation, aerospace, technology, and music. Some of the famous companies and artists that originated from Washington include Boeing, Microsoft, Starbucks, Amazon, Nirvana, Pearl Jam, Jimi Hendrix, and Bing Crosby.

Location & Climate

Washington is located in the Pacific Northwest region of the United States. It borders Oregon to the south, Idaho to the east, Canada to the north, and the Pacific Ocean to the west. It has a total area of 71,362 square miles (184,827 square kilometers), making it the 18th largest state by area. It has a population of about 7.7 million people (as of 2020), making it the 13th most populous state.

Washington has a varied climate that depends on its geography and elevation. Generally speaking, it has two main climate zones: west of the Cascade Mountains and east of them.

West of the Cascades, the climate is mild and humid, influenced by the ocean and the mountains. It has cool and wet winters, and warm and dry summers. It also has a lot of rainfall, especially in the coastal areas and the Olympic Peninsula, where it can reach up to 160 inches (4,064 millimeters) per year. The average temperature in Seattle, the largest city in this zone, is 41°F (5°C) in January and 65°F (18°C) in July.

East of the Cascades, the climate is dry and continental, influenced by the rain shadow effect of the mountains. It has cold and snowy winters, and hot and sunny summers. It also has less rainfall, ranging from 8 to 20 inches (203 to 508 millimeters) per year. The average temperature in Spokane, the largest city in this zone, is 27°F (-3°C) in January and 69°F (21°C) in July.

Fun Facts of Washington and Pets

Washington is a state full of fun facts and trivia that will surprise and delight you. Here are some of them related to pets.

Washington is home to the world's largest rottweiler statue, located in Vashon Island. It is 11 feet tall and weighs 2 tons. It was created by artist Matthew Gray Palmer in 2010 as a tribute to his dog, Smoky.

Washington is also home to the world's first Starbucks, located in Seattle's Pike Place Market. It opened in 1971 and still operates today. You can bring your dog inside and order a puppuccino, a small cup of whipped cream for your furry friend.

Washington has a state dog, the Siberian husky. It was designated as such in 2004, thanks to the efforts of a group of elementary school students who lobbied for it. The Siberian husky is a breed of dog that originated in Siberia and was used for sledding and hunting. It is known for its thick fur, blue or brown eyes, and friendly personality.

Washington has a state fossil, the Columbian mammoth. It was designated as such in 1998, thanks to the efforts of another group of elementary school students who lobbied for it. The Columbian mammoth is an extinct species of elephant that lived in North America during the Pleistocene epoch. It was one of the largest land mammals ever, reaching up to 13 feet (4 meters) at the shoulder and weighing up to 10 tons.

Things to Do with Your Pet

Washington is a pet-friendly state that offers many activities and attractions that you can enjoy with your pet. Here are some of them.

Hike at Olympic National Park

This is a national park that covers nearly a million acres of land on the Olympic Peninsula. It features diverse ecosystems, such as rainforests, mountains, glaciers, lakes, rivers, and beaches. You can hike on some of the trails with your leashed pet, such as the Spruce Railroad Trail, the Peabody Creek Trail, and the Rialto Beach Trail.

Play at Marymoor Park

This is a park that spans 640 acres of land in Redmond. It is one of the most popular parks in Washington, attracting more than 3 million visitors per year. It offers many amenities and facilities, such as sports fields, playgrounds, gardens, picnic areas, and a velodrome. It also has a 40-acre off-leash dog area, where your pet can run, swim, and socialize with other dogs.

Cruise at Seattle Water Tours Ice Cream Cruise

This is a cruise that departs from South Lake Union in Seattle. It lasts for about an hour and takes you around Lake Union and Lake Washington. You can see some of the landmarks and sights of Seattle from the water, such as Gas Works Park, Husky Stadium, Bill Gates' house, and floating homes. You can also enjoy some ice cream on board. Dogs are welcome on the cruise for free.