Arizona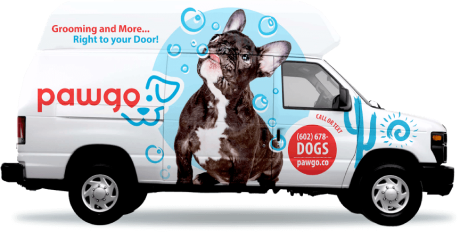 Are you looking for a convenient and affordable way to pamper your pet in Arizona? Look no further than Pawgo, the mobile pet grooming service that comes to you! Whether you have a dog, a cat, or any other furry friend, Pawgo can provide them with a professional and personalized grooming experience in the comfort of your own home. No more hassle, stress, or mess!

Pawgo is more than just a grooming service. We are also passionate about pets and their owners. That's why we want to share with you some of the amazing things that Arizona has to offer for you and your pet. From landmarks to history to fun facts, here are some of the reasons why Arizona is a great place to live with your pet.
Praise from our satisfied customers:
I am thoroughly pleased with the service provided by Pawgo. The grooming session was a success, resulting in a beautifully groomed and happy pet. The care and attention given to my pet during the grooming process were remarkable.
Grigor Ataryan
15/08/2023
Very pleased with this mobile service! Friendly, on time, did a beautiful grooming on my dog, just as I requested. Will definitely be using this service again.
Amanda was awesome! Maggie didn't have a great first experience with another grooming company and was now scared. We thought we would give Amanda with Pawgo a try, we are so happy we did. We will definitely be using this service and Amanda from now on.
Kyra is amazing, my dogs have never looked better!
Great service. My 2 dogs loved the groomer. Timely and did an excellent job. I definitely recommend them.
If you have a pet that is overly anxious, the Mesa Mobile Pet Grooming is for you. They are extremely professional and capable. Thanks, Kyra. My dog Buddy looks very handsome.
Service areas in Arizona

You can order online your mobile pet grooming service and we will go right to your door. Currently, we offer our Mobile Pet Grooming Service in these locations:

Landmarks

Arizona is home to some of the most spectacular natural wonders in the world, and many of them are pet-friendly! Here are three landmarks that you can visit with your pet and enjoy the beauty of Arizona.

Grand Canyon National Park
One of the most stunning sights in Arizona is the Grand Canyon, in the north of the state. And luckily, it's still possible to visit the Grand Canyon with your pet, although there are some limitations on what you can do.

Another spectacular place in Arizona is Monument Valley, and it's also dog friendly! This area is home to some impressive red rock towers, as well as the famous highway from the Forrest Gump movie. One of the best things to do right away is Monument Valley's scenic drive, which gives you a chance to see the monuments up close and admire the landscape from your vehicle.

Petrified Forest National Park

You won't find a traditional forest at Petrified Forest National Park in Holbrook. Instead, you'll find a landscape full of colorful petrified wood, fossils, and badlands. Plan to drive the 28-mile park road, then hike amongst the petrified wood, which is all that's left of this prehistoric rainforest.

A Brief History of Arizona

Arizona has a rich and diverse history that spans thousands of years. Here are some of the highlights of how Arizona became what it is today.

Prehistoric Period: Indigenous hunter-gatherers arrived in what is now Arizona more than 12,000 years ago. About 10,000 to 12,000 years ago, Paleo-Indians settled in what is now Arizona. A few thousand years ago, several complex cultures emerged in the region, such as the Ancestral Puebloan (also known as Anasazi), Hohokam, Mogollon, and Sinagua. These cultures built elaborate structures, developed irrigation systems, traded with other groups, and created art and pottery. However, all of these civilizations mysteriously disappeared from the region in the 15th and 16th centuries.
Spanish Period: The first European explorers arrived in Arizona in 1539, when a Franciscan friar named Marcos de Niza claimed the land for Spain. In 1540, Francisco Vázquez de Coronado led an expedition in search of the mythical Seven Cities of Gold, but found only native villages. The Spanish established missions and presidios (forts) in the area, but faced resistance from the native peoples, especially the Apache and Navajo. The Spanish also introduced livestock, crops, and diseases that had a lasting impact on the environment and the native cultures.
Mexican Period: In 1821, Mexico gained its independence from Spain, and Arizona became part of the state of Sonora. The Mexican government encouraged settlement and trade in the region, but also faced conflicts with the native tribes and the United States. In 1846, the Mexican-American War broke out, and Arizona became a battleground. In 1848, under the terms of the Treaty of Guadalupe Hidalgo, Mexico ceded to the U.S. the northern part of Arizona above the Gila River. In 1854, by means of the Gadsden Purchase, the U.S. acquired the southern part of Arizona below the Gila River.
Territorial Period: In 1863, Arizona was split off from the Territory of New Mexico to form the Arizona Territory. The Civil War had divided the region, with some supporting the Confederacy and some supporting the Union. The U.S. Army established forts and fought against the Apache and Navajo, who resisted their encroachment. The discovery of gold, silver, and copper attracted miners and settlers to Arizona, as well as outlaws and lawmen. The railroad arrived in 1880, connecting Arizona to the rest of the country and bringing more people and commerce. Arizona also became a destination for health seekers, who came for its dry climate and mineral springs.
Statehood Period: Arizona became the 48th state in 1912, after a long struggle for statehood. The state adopted a progressive constitution that granted women's suffrage, recall of judges, and initiative and referendum rights. Arizona also faced challenges such as water scarcity, labor disputes, racial discrimination, and environmental issues. During World War II, Arizona hosted several military bases and camps for Japanese-American internees. After the war, Arizona experienced rapid population growth and urbanization, especially in Phoenix and Tucson. The state also became a center for tourism, agriculture, industry, and technology. Arizona also played a role in the civil rights movement, the Cold War, and the space program.
Location & Climate

Arizona is located in the southwestern region of the United States, bordering Mexico, California, Nevada, Utah, Colorado, and New Mexico. It covers an area of 113,990 square miles, making it the sixth-largest state by area. It has a population of about 7.4 million people, making it the 14th-most populous state.

Arizona has a diverse climate, ranging from arid desert to alpine tundra. The lower elevations, such as Phoenix and Tucson, have hot summers and mild winters, while the higher elevations, such as Flagstaff and Sedona, have cooler summers and snowy winters. The average annual temperature in Arizona is 60.3°F, with an average high of 86°F and an average low of 34°F.

Fun Facts of Arizona and Pets

Did you know that Arizona has some interesting facts related to pets? Here are some of them:

Arizona is home to the world's largest rose tree, which covers an area of 9,000 square feet in Tombstone. The tree was planted in 1885 by a woman who received a rose cutting from her sister in Scotland. The tree is still alive and blooming today.

Arizona has more national monuments than any other state, with 18 of them. Some of these monuments are pet-friendly, such as Casa Grande Ruins National Monument, Montezuma Castle National Monument, and Tuzigoot National Monument.

Arizona has a state dog breed: the Catahoula Leopard Dog. This breed was developed by Native Americans in Louisiana and Texas, and was used for hunting wild boar and other game. The Catahoula Leopard Dog is known for its intelligence, loyalty, and distinctive coat patterns.

Things to Do with Your Pet

If you're looking for some fun activities to do with your pet in Arizona, here are some suggestions:

Visit a dog park

Arizona has many dog parks where you can let your pet run free and socialize with other dogs. Some of the best dog parks in Arizona are Cosmo Dog Park in Gilbert, Steele Indian School Dog Park in Phoenix, Thorpe Park Bark Park in Flagstaff, Christopher Columbus Dog Park in Tucson, and Lions Dog Park at London Bridge Beach in Lake Havasu City.

Go on a boat tour

If you want to enjoy some water views with your pet, you can go on a boat tour on one of Arizona's lakes or rivers. Some of the pet-friendly boat tours in Arizona are Dolly Steamboat on Canyon Lake, Lake Powell Resorts & Marinas on Lake Powell, and Colorado River Discovery on the Colorado River.

Explore a ghost town

If you're into history and mystery, you can explore one of Arizona's many ghost towns with your pet. Some of the most fascinating ghost towns in Arizona are Goldfield, an old gold mining town near Phoenix, Jerome, a former copper mining town turned artsy community, and Tombstone, the site of the famous O.K. Corral shootout.