Nevada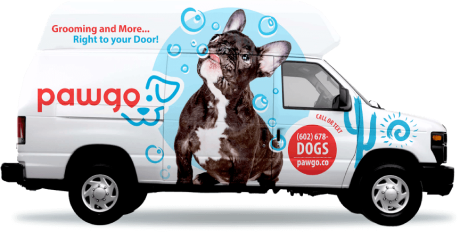 Are you looking for a convenient and affordable way to pamper your pet in Nevada? Pawgo is the answer! We are a mobile pet grooming service that comes to you wherever you are in the Silver State. Whether you need a bath, a haircut, a nail trim, or a teeth cleaning, we have you covered. Our professional groomers are trained, certified, and insured, and they love animals as much as you do. Plus, we use only natural and eco-friendly products that are gentle on your pet's skin and coat.

Praise from our satisfied customers:
I am thoroughly pleased with the service provided by Pawgo. The grooming session was a success, resulting in a beautifully groomed and happy pet. The care and attention given to my pet during the grooming process were remarkable.
Grigor Ataryan
15/08/2023
Very pleased with this mobile service! Friendly, on time, did a beautiful grooming on my dog, just as I requested. Will definitely be using this service again.
Amanda was awesome! Maggie didn't have a great first experience with another grooming company and was now scared. We thought we would give Amanda with Pawgo a try, we are so happy we did. We will definitely be using this service and Amanda from now on.
Kyra is amazing, my dogs have never looked better!
Great service. My 2 dogs loved the groomer. Timely and did an excellent job. I definitely recommend them.
If you have a pet that is overly anxious, the Mesa Mobile Pet Grooming is for you. They are extremely professional and capable. Thanks, Kyra. My dog Buddy looks very handsome.
Service areas in Nevada

You can order online your mobile pet grooming service and we will go right to your door. Currently, we offer our Mobile Pet Grooming Service in this location:

Landmarks

Nevada is more than just casinos and deserts. It's also home to fantastic landmarks you can enjoy with your furry friend. Here are three of them:

The famous boulevard in Las Vegas is a must-see for any visitor. You can walk along the sidewalk with your leashed pet and marvel at the dazzling lights, fountains, and architecture of the hotels and casinos. Some even have pet-friendly rooms and amenities if you want to stay overnight.

Fremont Street Experience

Another iconic attraction in Las Vegas, this pedestrian mall features a giant LED canopy that displays spectacular shows every night. You can also find live music, street performers, and souvenir shops. Your pet is welcome to join you if they are leashed and well-behaved.

Valley of Fire State Park

This state park is an excellent option if you prefer nature over neon. It's located about an hour northeast of Las Vegas. It features stunning red sandstone formations that date back to the age of dinosaurs. You can explore the pet-friendly trails with your dog and see ancient petroglyphs, arches, and rock formations.

A Brief History of Nevada

Nevada has a rich and diverse history that spans thousands of years. Here are some highlights:

The first inhabitants of Nevada were Native Americans who lived in various tribes and cultures. They left behind evidence of their presence in the form of art, tools, and dwellings.

Spanish missionaries and traders who followed the Old Spanish Trail in the late 1700s and 1800s were the first European explorers to reach Nevada. They named the region "Nevada, " meaning "snow-covered" in Spanish.

The first significant influx of settlers came during the gold rush 1849 when thousands of prospectors crossed Nevada on their way to California. Some stayed and discovered silver and other minerals in Nevada, sparking a mining boom that lasted for decades.

Nevada became the 36th state in 1864 during the Civil War. It was nicknamed the "Battle Born State" because it joined the Union as a free state. It also adopted its motto, "All for Our Country," to show its loyalty.

Nevada experienced another wave of growth in the 20th century, thanks to the development of tourism, entertainment, gaming, and military industries. Las Vegas became the world's gambling capital, while Reno became known as the "Biggest Little City in the World." Nevada also hosted several nuclear tests at the Nevada Test Site.

Location & Climate

Nevada is located in the western region of the United States, bordered by California, Oregon, Idaho, Utah, and Arizona. It covers an area of 110,577 square miles, making it the seventh-largest state by land area. Its population is about 3 million people, making it the 32nd-most populous state.

Nevada has a varied climate that depends on elevation and location. The southern part of the state has a hot desert climate, with long summers and mild winters. The northern part of the state has a semi-arid climate, with cold winters and warm summers. The highest point in Nevada is Boundary Peak, at 13,147 feet above sea level. At the same time, the lowest is the Colorado River, at 479 feet above sea level.

Fun Facts of Nevada and Pets

Here are some fun facts about Nevada and pets that you may not know:

Nevada is one of the few states allowing legal gambling on animal races, such as horse and dog racing.

Nevada is home to the world's largest gold nugget, which weighs 61 pounds and is worth about $7 million. It was found by a dog named Felice in 1987 near Winnemucca.

Nevada has more mountain ranges than any other state in the contiguous USA, with over 300 named degrees.

Nevada is also home to more than 300 species of birds, including the state bird, the mountain bluebird.

Nevada has a state fossil, the ichthyosaur, a marine reptile that lived about 200 million years ago. You can see fossils of these creatures at the Berlin-Ichthyosaur State Park.

Nevada has a state animal, which is the desert bighorn sheep. This wild sheep lives in the rocky mountains and canyons of Nevada. They are known for their impressive horns and agility.

Nevada has a state dog, the Blue Heeler, also known as the Australian Cattle Dog. These dogs are loyal, intelligent, and energetic and were bred to herd cattle.

Things to Do with Your Pet

Nevada is a pet-friendly state that offers plenty of activities for you and your pet. Here are some ideas:

Go camping

Nevada has many campgrounds that welcome pets, such as Lake Mead National Recreation Area, Great Basin National Park, and Red Rock Canyon National Conservation Area. You can pitch a tent, park your RV, or rent a cabin and enjoy the great outdoors with your pet.

Go hiking

Nevada has hundreds of miles of trails you can explore with your pet, from easy to challenging. Mount Charleston, Cathedral Gorge State Park, and Tahoe Rim Trail are some of the best places to hike. Just keep your pet on a leash and bring enough water and snacks for both of you.

Go boating

Nevada has many lakes and rivers you can enjoy with your pet, such as Lake Tahoe, Lake Mead, and Colorado River. You can rent a boat, kayak, canoe, or paddleboard and have fun with your pet on the water. Just make sure to have a life jacket for your pet and follow the safety rules.