Illinois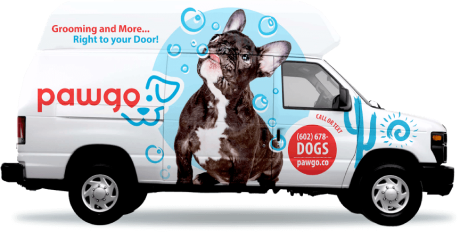 Welcome to Pawgo, the ultimate mobile pet grooming service for busy pet owners in Illinois. Whether you have a dog, a cat, or a furry friend, we can help you keep them clean, healthy, and happy with our convenient and affordable grooming options. We come to you, so you don't have to worry about driving, parking, or waiting in line. Book an appointment online or by phone, and we'll bring our fully equipped grooming van to your location. Your pet will enjoy a stress-free grooming experience in a safe and comfortable environment.
Praise from our satisfied customers:
I am thoroughly pleased with the service provided by Pawgo. The grooming session was a success, resulting in a beautifully groomed and happy pet. The care and attention given to my pet during the grooming process were remarkable.
Grigor Ataryan
15/08/2023
Very pleased with this mobile service! Friendly, on time, did a beautiful grooming on my dog, just as I requested. Will definitely be using this service again.
Amanda was awesome! Maggie didn't have a great first experience with another grooming company and was now scared. We thought we would give Amanda with Pawgo a try, we are so happy we did. We will definitely be using this service and Amanda from now on.
Kyra is amazing, my dogs have never looked better!
Great service. My 2 dogs loved the groomer. Timely and did an excellent job. I definitely recommend them.
If you have a pet that is overly anxious, the Mesa Mobile Pet Grooming is for you. They are extremely professional and capable. Thanks, Kyra. My dog Buddy looks very handsome.
Service areas in Illinois

You can order online your mobile pet grooming service and we will go right to your door. Currently, we offer our Mobile Pet Grooming Service in this location:
Landmarks

Illinois is a great state to explore with your pet. There are many pet-friendly attractions that you can enjoy together, from museums and parks to wineries and orchards. Here are three landmarks that you and your pet should not miss:

Museum of Science and Industry

This is one of the largest science museums in the world, and it welcomes leashed dogs on its outdoor grounds. You can admire the historic building built for the 1893 World's Fair and stroll along the scenic lagoon.

This is the tallest building in Chicago and the second-tallest in the United States. You can take your leashed dog to the Skydeck on the 103rd floor, enjoy panoramic city views, and step onto the glass-floored Ledge.

This is a natural wonderland of canyons, waterfalls, and forests along the Illinois River. You can hike with your leashed dog on over 13 miles of trails and admire the stunning scenery and wildlife.

A Brief History of Illinois

Illinois has a rich and diverse history that spans thousands of years. Here are some highlights of its past:

The first inhabitants of Illinois were Native Americans, who built complex civilizations such as Cahokia, with a population of about 20,000 people at its peak around 1050 AD. Cahokia was the most significant urban center north of Mexico until the 1700s.

French explorers Louis Jolliet and Jacques Marquette, in 1673, were the first Europeans to visit Illinois. They claimed the region for France and named it after the Illiniwek Confederation, a group of Native American tribes living there.

The region was ceded to Britain after the French and Indian War 1763. It became part of the United States after the American Revolution in 1783. Illinois was part of several territories before becoming a state in 1818.

Illinois played an essential role in developing the United States as a transportation hub, an industrial powerhouse, and a political leader. It was home to Abraham Lincoln, Ulysses S. Grant, Barack Obama, and many other influential figures. It also witnessed significant events such as the Great Chicago Fire of 1871, the World's Columbian Exposition of 1893, the Chicago Race Riot of 1919, and the Chicago World's Fair of 1933.

Location & Climate

Illinois is located in the Midwest region of the United States, bordered by Wisconsin to the north, Lake Michigan to the northeast, Indiana to the east, Kentucky to the southeast, Missouri to the west, and Iowa to the northwest. It covers an area of about 57,914 square miles, making it the 25th largest state by area.

Illinois has a continental climate with four distinct seasons. The winters are cold and snowy, especially in the northern part of the state, where temperatures can drop below zero degrees Fahrenheit. The summers are hot and humid, especially in the southern part of the state, where temperatures can reach over 100 degrees Fahrenheit. The springs and falls are mild and pleasant, with colorful foliage and blooming flowers.

The average annual precipitation in Illinois is about 40 inches, with more rain falling in the south than in the north. The state is prone to severe weather, such as thunderstorms, tornadoes, blizzards, floods, and droughts.

Fun Facts of Illinois and Pets

Illinois is not only a great place for humans but also for pets. Here are some fun facts about Illinois and pets:

Illinois has an official state animal: the white-tailed deer. It also has an official state bird, the northern cardinal; an official state fish, the bluegill; an official state insect, the monarch butterfly; an official state reptile, the painted turtle; and an official state fossil, the Tully monster.

Illinois is home to the world's most giant catsup bottle, which stands 170 feet tall in Collinsville. It was built in 1949 as a water tower for the Brooks Catsup Company and is now a national historic landmark.

Illinois is also home to the world's most giant rocking chair, which stands 56 feet tall in Casey. It was built in 2015 by Jim Bolin, who made several other big objects in the town, such as a mailbox, a pencil, and a golf tee.

According to the American Veterinary Medical Association, Illinois has more than 2 million pet dogs and more than 1.5 million cats. Illinois's most popular dog breeds are Labrador retrievers, German shepherds, and golden retrievers. The most popular cat breeds in Illinois are domestic shorthairs, Siamese, and Maine coons.

Things to Do with Your Pet

Illinois offers you and your pet many opportunities to have fun and bond. Here are some things you can do with your pet in Illinois:

Visit one of the many pet-friendly parks, trails, and beaches in Illinois

Such as Montrose Dog Beach in Chicago, where your dog can swim and play off-leash; Allerton Park & Retreat Center in Monticello, where you can explore the gardens and sculptures with your leashed dog; or Shawnee National Forest in Junction, where you can hike and camp with your leashed dog.

Enjoy one of the many pet-friendly attractions, events, and festivals in Illinois

Such as Mercury's Canine Cruise in Chicago, where you can take a boat tour of the city with your dog; Pride of the Fox Riverfest in St Charles, where you can watch dragon boat races, craft shows, and dog shows with your pet; or Eckert's Orchards in Belleville, where you can pick fresh fruits and veggies with your leashed dog.

Treat yourself and your pet to one of the many pet-friendly restaurants, breweries, and wineries in Illinois

Such as Galena Cellars Winery & Vineyard in Galena, where you can taste award-winning wines with your leashed dog; Whiskey Hill Brewing Company in Westmont, where you can sample craft beers and pub food with your leashed dog; or Yorktown Center in Lombard, where you can dine at one of the many pet-friendly eateries with your leashed dog.