Oklahoma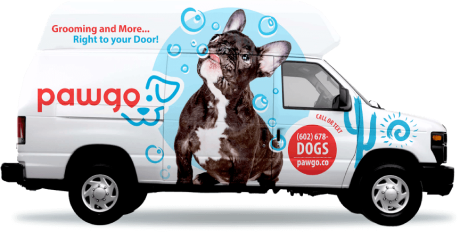 Are you looking for a convenient, affordable way to keep your pet healthy and happy? Look no further than Pawgo, the mobile pet grooming service that comes to you! Pawgo offers a range of services for dogs and cats of all sizes and breeds, including bathing, brushing, nail trimming, ear cleaning, teeth brushing, and more. Whether you need a full groom or just a touch-up, Pawgo can handle it. You can save time and hassle by booking online and having us visit your location. No more driving to the salon, waiting in line, or stressing out your pet. Pawgo makes pet grooming easy and fun!

Praise from our satisfied customers:
I am thoroughly pleased with the service provided by Pawgo. The grooming session was a success, resulting in a beautifully groomed and happy pet. The care and attention given to my pet during the grooming process were remarkable.
Grigor Ataryan
15/08/2023
Very pleased with this mobile service! Friendly, on time, did a beautiful grooming on my dog, just as I requested. Will definitely be using this service again.
Amanda was awesome! Maggie didn't have a great first experience with another grooming company and was now scared. We thought we would give Amanda with Pawgo a try, we are so happy we did. We will definitely be using this service and Amanda from now on.
Kyra is amazing, my dogs have never looked better!
Great service. My 2 dogs loved the groomer. Timely and did an excellent job. I definitely recommend them.
If you have a pet that is overly anxious, the Mesa Mobile Pet Grooming is for you. They are extremely professional and capable. Thanks, Kyra. My dog Buddy looks very handsome.
Service areas in Oklahoma

You can order online your mobile pet grooming service and we will go right to your door. Currently, we offer our Mobile Pet Grooming Service in this location:

Landmarks

Oklahoma is a great place to explore with your furry friend. There are many pet-friendly landmarks that you can visit and enjoy together. Here are three of them:

Suppose you and your pet are fascinated by bones. In that case, you'll love this museum that displays over 300 skeletons of animals worldwide. You can learn about the anatomy, evolution, and diversity of life on Earth. Dogs are welcome inside the museum if they are leashed and well-behaved.

Wichita Mountains National Wildlife Refuge

This refuge is home to more than 50 species of mammals, 240 species of birds, and 64 species of reptiles and amphibians. You can hike, bike, fish, or camp in this scenic area with lakes, forests, prairies, and mountains. Pets are allowed in most places of the refuge as long as they are leashed and controlled.

Oklahoma's Great Pet-Friendly State Parks

Oklahoma has many state parks that offer outdoor recreation and natural beauty for you and your pet. You can choose from gardens with lakes, waterfalls, caves, trails, cabins, and more. Some popular pet-friendly state parks are McGee Creek State Park, Black Mesa State Park, Clayton Lake State Park, and Great Plains State Park.

A Brief History of Oklahoma

Oklahoma has a rich and diverse history that spans thousands of years. Here are some highlights:

Precontact Oklahoma: The first humans arrived in Oklahoma about 30,000 years ago and lived as hunters and gatherers. Around 2,000 years ago, some groups developed agriculture and built mounds for ceremonial purposes. The Caddoan Mississippi Culture was one of the most advanced civilizations in the region until European contact.
European Exploration and Colonization: The first Europeans to explore Oklahoma were Spanish conquistadors in the 16th century. They encountered various Native American tribes, such as the Wichita, the Osage, and the Apache. In the 18th century, French traders and missionaries also visited the area. Oklahoma was part of the Louisiana Purchase in 1803 and became part of the United States.
Indian Territory: In the 19th century, Oklahoma became known as Indian Territory. In this place, Native Americans from other states were forcibly relocated by the federal government. The Trail of Tears was one of the most tragic events in this process, as thousands of Cherokee died on their way to Oklahoma. Other tribes that settled in Oklahoma include the Choctaw, Chickasaw, Creek, Seminole, Cheyenne, Arapaho, and Kiowa.
Land Rushes and Statehood: In 1889, the first land rush opened up part of Oklahoma for white settlement. Thousands raced to claim free land in what became known as the Unassigned Lands. More land rushes followed in subsequent years, creating towns and cities across Oklahoma. In 1907, Oklahoma became the 46th state to join the union. 
Oil Boom and Dust Bowl: In the early 20th century, Oklahoma experienced an oil boom that brought wealth and prosperity to many people. Oil fields were discovered across the state, creating new industries and businesses. However, in the 1930s, Oklahoma also suffered from the Dust Bowl, a severe drought and soil erosion period that caused massive crop failures and migrations. Many Oklahomans moved to other states in search of better opportunities.
Location & Climate

Oklahoma is located in the south-central region of the United States. It borders Colorado and Kansas to the north, Missouri and Arkansas to the east, Texas to the south and west, and New Mexico to the west. Oklahoma has a total area of 69,899 square miles (181,037 square kilometers), making it the 20th largest state by area. Oklahoma has a diverse geography, including plains, hills, mountains, forests, lakes, and rivers. The highest point in Oklahoma is Black Mesa, which rises to 4,973 feet (1,516 meters) above sea level. The lowest point is the Little River, which flows at 289 feet (88 meters) above sea level.

Oklahoma has a humid subtropical climate, with hot summers and mild winters. The average temperature in Oklahoma is 60.5°F (15.8°C), with a record high of 120°F (48.9°C) and a record low of -27°F (-32.8°C). Oklahoma receives about 36 inches (914 millimeters) of precipitation annually, mostly rain. However, Oklahoma is also prone to severe weather events, such as tornadoes, thunderstorms, hail, floods, and wildfires. Oklahoma is part of Tornado Alley, a region that experiences more tornadoes than any other place in the world.

Fun Facts of Oklahoma and Pets

Oklahoma is a state full of interesting facts and trivia. Here are some fun facts about Oklahoma and pets:

Oklahoma is the only state that has an official state meal, which consists of fried okra, cornbread, barbecue pork, squash, biscuits, sausage and gravy, grits, corn, strawberries, chicken-fried steak, black-eyed peas, and pecan pie.

Oklahoma is home to the National Cowboy & Western Heritage Museum, which showcases the art, history, and culture of the American West. The museum has a pet cemetery where famous rodeo animals are buried, such as Tornado the Bull and Midnight the Horse.

Oklahoma has more artificial lakes than any other state, with over 200 lakes and 1 million surface acres of water. Some of the most popular lakes for boating, fishing, and swimming are Lake Texoma, Grand Lake O' the Cherokees, and Lake Eufaula. Many of these lakes have pet-friendly beaches and campgrounds where you can enjoy the water with your furry friend.

Oklahoma is the birthplace of many famous people and animals, such as Will Rogers, Garth Brooks, Reba McEntire, Brad Pitt, Carrie Underwood, and Blake Shelton. Some of the favorite pets that were born or lived in Oklahoma include Winnie the Pooh (a black bear cub that inspired the stories by A.A. Milne), Misty (a horse that starred in the movie Misty of Chincoteague), and Reveille (the official mascot of Texas A&M University).

Things to Do with Your Pet

Oklahoma has plenty of things to do with your pet that will make your trip memorable and fun. Here are three suggestions:

Visit Paw Park

Paw Park is a 2.5-acre fenced area in Norman where dogs can run free and socialize with other dogs. The park has separate areas for large and small dogs, water fountains, benches, and shade trees. There is also a pond where dogs can swim and cool off. Paw Park is open from dawn to dusk daily and free to use.

Take a Ride on the Heartland Flyer

The Heartland Flyer is a passenger train between Oklahoma City and Fort Worth, Texas. You can bring your pet on board for a small fee and enjoy the scenic views. The train has comfortable seats, restrooms, snack bars, and Wi-Fi service. The trip takes about four hours each way and stops at several stations.

Explore Bricktown

Bricktown is a vibrant entertainment district in downtown Oklahoma City with restaurants, bars, shops, museums, and attractions. You can walk along the Bricktown Canal with your pet and enjoy the sights and sounds of the city. You can also take a water taxi ride or rent a bike to explore more of the area. Many of the businesses in Bricktown are pet-friendly and welcome your furry companion.