Book Mobile Pet Grooming
The safest and easiest way to get service to your door.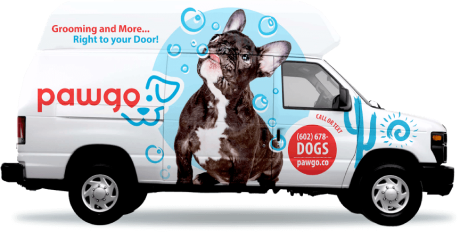 Experience the benefits of full-service, salon quality mobile grooming
Home or Office
Quickly and easily book an appointment that works with your schedule. Whether at your home or office, one of our independent groomers will arrive at your doorstep to provide full service.
Less Stress & More Time
No more stressful trips to and from the groomer, mobile service is convenient for busy pet lovers and easier on your pet. Pawgo's independent groomers are available seven days a week.
Happy & Clean Pets
Every pet gets one-on-one attention with an experienced groomer while staying close to a place they are familiar with. No distractions from the attention and care your pet deserves.
Fully equipped vans and experienced groomers
Pawgo groomers have over 500+ years of combined experience.
Pawgo's vans are designed and built specifically for dog and cat grooming and are equipped with all the amenities needed for a comfortable and thorough pet grooming experience. Most of our vans are self-powered through generators so there is no need to plug into your home. Each van is fully insured and routinely maintained so the maximum safety and security for your pet is a guarantee.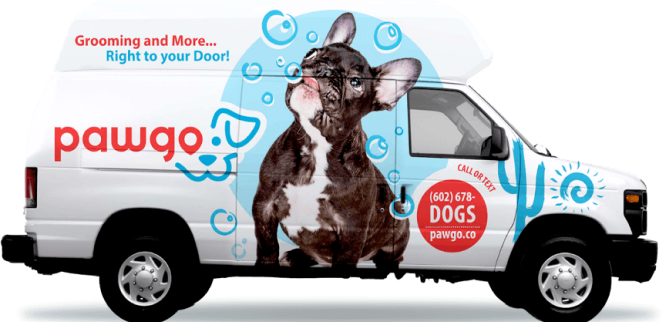 Hot & Cold Water
Full-sized Tub
Grooming Table
Air Conditioning
Force Dryers
Vacuum System
Fresh & Waste Water Tanks
Routinely Maintained
Free from Cage Driers
Fully Insured
Optimized for
safety and comfort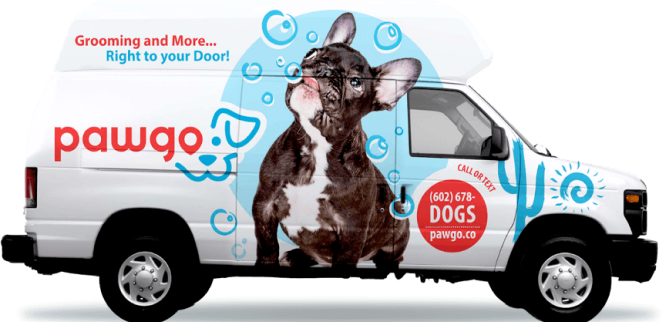 Praise from our satisfied customers:
Custom care according to your pet's need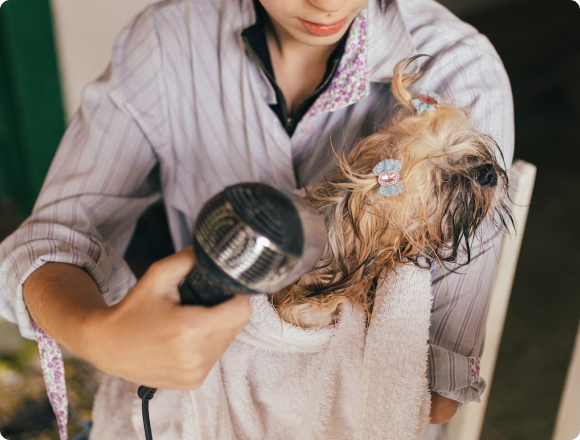 Full Groom
All full grooming appointments include a bath and brush, breed-specific trim/haircut, blow dry, nail clipping, ear cleaning, and anal gland expression.
Approximately 1 – 2 hours depending on breed, size & condition of the pet. This is our BEST all in one service.
Bath & Tidy
A quick bath and tidy service includes a bath and brush, nail clipping, teeth brushing, ear cleaning and anal gland expression.
Approximately 45 – 90 minutes depending on breed, size & condition of the pet.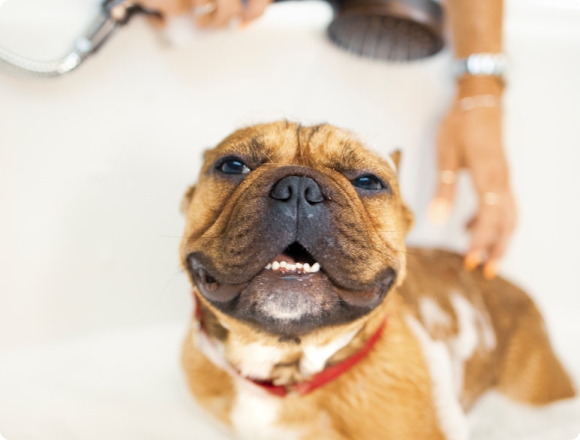 Service Call
A 15 minute non-grooming service such as a flea and tick treatment.
Additional available services include scissor finish, nail trimming, teeth brushing, and medicated shampoo.
Specialized care for your special pet
We recognize different pets need different care. Our groomers offer full services for both cats and dogs, taking care to optimize each experience to the needs of each pet.
Cat Grooming Services
In addition to the full grooming services listed above, specific cat grooming services are also offered, such as:
Mobile cat claw trimming
Eliminating fleas and ticks
Cat safe shampoo and conditioner
Medicated bath if needed
Hot oil treatment after bath
Shedding solution
Massage
Full dermal inspection
Relaxing fluff dry by hand
Dog Grooming Services
In addition to the full grooming services listed above, specific dog grooming services are also offered, such as:
On-site grooming assessment
Brushing out of knots and debris
Medicated baths
Clean eyes
Dental plaque removal without anesthesia
De-shedding treatment
Pampering massage
Flea and tick treatment
Hot oil treatment
100% cage-free, one-on-one grooming
Tasty treat (with your approval)
Multiple locations, one goal
Pawgo's Locations
Pawgo's booking services were first started in Arizona serving the Valley of the Sun, and is steadily expanding in other areas of the USA. The goal is to have local, trusted care and personalized support wherever there are pets and pet parents.
Don't see your area in our list? Let us know!
Are you a professional mobile pet groomer?
Become a Pawgo Pal
Manage your business, accept payments, grow your clientele and receive mobile maintenance support through Pawgo.
Learn More