Mobile Pet Groomer Mesa | Pawgo
We bring mobile pet grooming services for dogs and cats right to your door!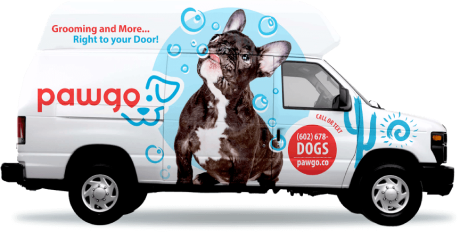 Experience the benefits of full-service, salon quality mobile grooming
Home or Office
Quickly and easily book an appointment that works with your schedule. Whether at your home or office, one of our independent groomers will arrive at your doorstep to provide full service.
Less Stress & More Time
No more stressful trips to and from the groomer, mobile service is convenient for busy pet lovers and easier on your pet. Pawgo's independent groomers are available seven days a week.
Happy & Clean Pets
Every pet gets one-on-one attention with an experienced groomer while staying close to a place they are familiar with. No distractions from the attention and care your pet deserves.
Premier Pet Grooming in Mesa
Pawgo groomers have over 500+ years of combined experience.
Elevate your pet's grooming experience with our mobile pet grooming in Mesa. Our dedicated Mesa pet groomers ensure your pets receive the royal treatment they deserve, from head to tail. Experience the convenience of mobile grooming as our experts cater to your pets' unique needs, leaving them feeling refreshed and looking fabulous.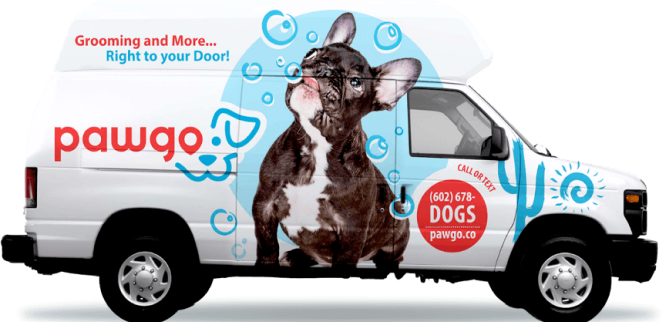 Hot & Cold Water
Full-sized Tub
Grooming Table
Air Conditioning
Force Dryers
Vacuum System
Fresh & Waste Water Tanks
Routinely Maintained
Free from Cage Driers
Fully Insured
Optimized for
safety and comfort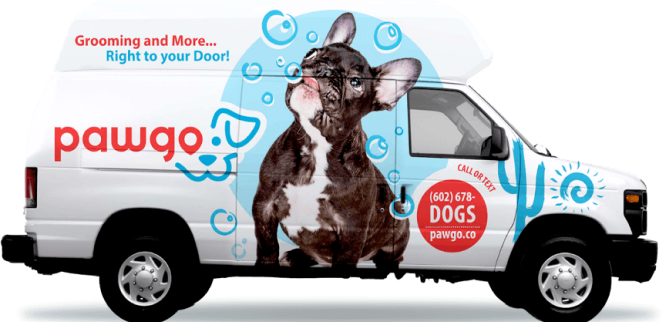 Praise from our satisfied customers:
★★★★★ I am thoroughly pleased with the service provided by Pawgo. The grooming session was a success, resulting in a beautifully groomed and happy pet. The care and attention given to my pet during the grooming process were remarkable. ★★★★★ Very pleased with this mobile service! Friendly, on time, did a beautiful grooming on my dog, just as I requested. Will definitely be using this service again. ★★★★★ Amanda was awesome! Maggie didn't have a great first experience with another grooming company and was now scared. We thought we would give Amanda with Pawgo a try, we are so happy we did. We will definitely be using this service and Amanda from now on. ★★★★★ Kyra is amazing, my dogs have never looked better! ★★★★★ Great service. My 2 dogs loved the groomer. Timely and did an excellent job. I definitely recommend them.Response from the ownerThank you so much for taking the time to write ★★★★★ If you have a pet that is overly anxious, the Mesa Mobile Pet Grooming is for you. They are extremely professional and capable. Thanks, Kyra. My dog Buddy looks very handsome. ★★★★★ Kyra V. was wonderful! She took care of all 3 of our big labs! She was extremely laid back and provided a calm presence for our high anxiety babies! I am so impressed! Would recommend her a million times over! Thanks so much, Kyra! ★★★★★ First grooming for my blind senior Yorkie went nicely! She did not come back in stressed which was an issue taking her to be groomed where multiple dogs and people are making noise. Highly recommend! Bonus, she looks cute and Amanda cut her as I specified! ★★★★★ Savannah did an amazing job! St.Bernard mix, Great Pyrenees, and 2 shih tzus. She took her time with my elderly dog! She will be my go-to from now on.Could not be happier! ★★★★★ Drew did an amazing job with our dog Maggie. We had a terrible experience at Petco and since then, Maggie gets very nervous when it's grooming time. Drew recognized this and was so sweet with Maggie! The grooming was the best we've ever had! We told Drew what we wanted and she did just that. The last groomer we used didn't listen to what we wanted. We just wanted a little trim on her main coat and a clean up on her legs, belly, and bottom. She came back completely shaved... the groomer hit the easy button. We will be customers forever with Drew. She may be booked for a while, but she is worth the wait! ★★★★★ Drew is the best, so great with our dogs - she knows what she is doing and loves the animals!!! So glad we found her to groom our dogs! ★★★★★ Our groomer was Amanda, and she was very friendly and great with our dog. The wash and groom came out great too! The cost was very reasonable compared to all the others I am finding, and they actually came out quickly compared to others that were saying they were either not taking clients or booked months out. Definitely gonna be using Pawgo from now on!Update: We had Andrea today and she was communicative and friendly. She did an outstanding job with ours dogs wash/trim/nail clipping. As with most things theses days, the cost has gone up but is still reasonable and competitively better than other groomers I'm finding. Very happy with the service from Pawgo. ★★★★★ So so so convenient and amazing! My dogs looked so fresh and Phyllis was on time and didn't miss a beat. I hope to always have this service for my pups. 🥰🥰 ★★★★★ Is prompt and caring. went to a groomer at a franchise and they complained every time. 2 dogs and they couldn't do their nails. Andrea has done both of them twice with no problem. Dogs are happy when done with no anxiety. Also it is much quicker. love this service. ★★★★★ They did a great job on my two dogsThey were on time and a pleasure to deal with. ★★★★★ My dog looks great on time professional ★★★★★ Andrea was wonderful, I've never had my senior rescue groomed before and she was so sweet and gentle with him. He came back happy and looking adorable!Response from the ownerGlad Andrea is taking good care of your pup! Thank you for sharing your feedback! ★★★★★ I had a bad experience with another mobile pet grooming service which I will not name. So I tried it again this time it was great Phyllis was a great the girls loved her I have three Pomeranian Chihuahua mix and they were sketchy about going back out there because last time they got hurt. Phyllis did a great job. I will definitely book again with PhyllisResponse from the ownerI am glad you had such a positive experience with Phyllis. Thank you for taking the time to share your feedback!
Find a Mesa pet groomer near you in three easy steps!
Book an Appointment
Enter an address, a date and time and instantly see our many groomers' availability and pricing online. Text or call support is available if needed.
Add multiple pets if needed
Select what services you need
Schedule a local, trusted groomer
Securely pay online
Meet Your Groomer
Your groomer will arrive in a full-service grooming van, right to your door! All you have to do is walk your pet outside.
Self-contained, fully-equipped vans
Service at your doorstep
All the offerings of a salon
Experienced and local groomers
Enjoy Your Clean Pet
Whether its a full grooming session or just a bath and a nail trim, Pawgo's groomers provide any service your furry friend needs at an experienced and high rated level.
Less stress than salon grooming
Pets get one-on-one attention
Pet profiles allow for easy rebooking
Specialized care for your special pet
We recognize different pets need different care. Our groomers offer full services for both cats and dogs, taking care to optimize each experience to the needs of each pet.
Cat Grooming Services
In addition to the full grooming services listed above, specific cat grooming services are also offered, such as:
Mobile cat claw trimming
Eliminating fleas and ticks
Cat safe shampoo and conditioner
Medicated bath if needed
Hot oil treatment after bath
Shedding solution
Massage
Full dermal inspection
Relaxing fluff dry by hand
Dog Grooming Services
In addition to the full grooming services listed above, specific dog grooming services are also offered, such as:
On-site grooming assessment
Brushing out of knots and debris
Medicated baths
Clean eyes
Dental plaque removal without anesthesia
De-shedding treatment
Pampering massage
Flea and tick treatment
Hot oil treatment
100% cage-free, one-on-one grooming
Tasty treat (with your approval)
Helpful Links
Best Dog Parks in Mesa
Discover the top 7 dog parks in Mesa, AZ, with A-Z Animals! This comprehensive blog post highlights Mesa's finest spots for your furry friend to romp, run, and socialize off-leash. Whether you're a local or a visitor, these well-maintained parks offer a safe and enjoyable environment for your beloved canine companion. Don't miss out on the chance to explore Mesa's best dog parks for a pawsitively fantastic experience!
Best Pet Stores in Mesa
Discover the top pet shops in Mesa, AZ, with Kev's Best! This handpicked list features the finest pet shops offering a wide range of products and services for your beloved pets. Whether you're looking for high-quality pet food, unique accessories, or expert grooming services, these shops have it all. Treat your furry companions to the best shopping experience in Mesa by exploring the top-rated pet shops recommended by Kev's Best!
Best Pet Clinics in Mesa
Expertise.com presents the best veterinarians in Mesa, AZ! This curated list showcases top-notch clinics offering exceptional care and medical services for your pets. From general check-ups to specialized treatments, these veterinarians provide expert and compassionate care. Trust Expertise.com's recommendations to find the best veterinarians in Mesa to cater to all your pet's health needs.
Main Cities We Serve
Pawgo's Locations
Pawgo's booking services were first started in Arizona serving the Valley of the Sun, and is steadily expanding in other areas of the USA. The goal is to have local, trusted care and personalized support wherever there are pets and pet parents.
FAQs
What information is needed to book an appointment?
Give Pawgo your pet's information, a credit or debit card to confirm, and a date and time that works for you. You are charged after service day. Authorize the final amount with your groomer, add a tip if you see fit, and you are done.
Do your vans have hot water and AC?
All Pawgo vans are self-contained with hot water, AC, wastewater tanks and a grooming table. See a video of how it works here.
I live in an apartment. Do you need to plugin to an outlet?
We have a selection of vans that run on generator power and are all independent from the grid. Our generators are powerful enough to run a small A/C unit so that your pet and our groomers are comfortable through the process. However, please specify if you do live in an apartment to ensure a generator-powered van is sent to you.
Do you have service 7 days a week?
Yes. Please make sure to book in advance if you need weekend appointments. Varies by area and groomer.
How long will it take for you to groom my pet?
A full groom takes anywhere between 1 – 2 hours. A bath and tidy is about 1 – 1.5 hours.
Is the mobile grooming van insured?
All of our independent groomer's mobile grooming vans are fully insured.
What products do your groomers use?
It varies by groomer-- groomers have freedom to choose because they service all types of pets.